The time has come where you can't stand the look of your old concrete driveway, patio or walkway any longer. For many Southern California homeowners, the thought of tearing up existing concrete and upgrading to paving stones sounds overwhelming and costly.

Luckily, there may be a simple solution that will help increase the curb appeal of your home: installing pavers over the existing concrete.
Benefits of Pavers
Approximately 50 percent of newly installed driveways in Los Angeles and surrounding areas are made of poured concrete. While they usually cost less than other types of driveways, concrete is more prone to cracking, is difficult or impossible to repair, and has ugly expansion joints.

Paving stones have become an increasingly popular material for new driveways, patios, pool decks and walkways, particularly in Southern California. Although the cost of pavers is higher than concrete, pavers offer a number of features that other materials do not.

Paving stones come in hundreds of colors, styles, textures and patterns, allowing you to create a one-of-a-kind look for your driveway, patio or pool deck. Plus, pavers have a classy look, last for decades, and can easily be repaired if needed.

When it comes to installing concrete pavers, there are two main options: regular paver installs and overlays. In a regular install, your paving contractor will start from scratch by excavating the area and laying down pavers. This technique is used when you don't already have concrete laid down or when there's significant damage to the concrete and/or foundation.

In cases where you already have a concrete driveway or patio that's in good condition, pavers could potentially be laid directly over concrete. This is known as an overlay, and while it's a great option for homeowners, it's not feasible in every situation.
Considerations Before Installing Pavers Over Concrete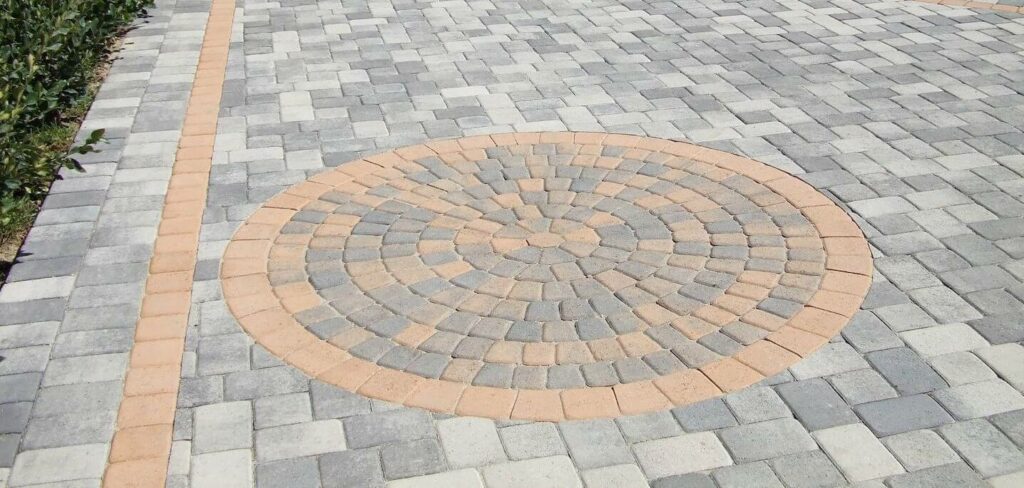 One of the best ways to improve the look of your existing concrete driveway, walkway, patio or pool deck is to lay pavers on top of it. It's fairly easy for a professional paving company to do, but there are some things to consider before you get started.

It's important that your existing concrete is in good shape – no large cracks, a smooth surface, etc. Additionally, there needs to be enough room to add a paver on top of the concrete without it blocking any doorways or causing a tripping hazard.
The Best Way to Install Pavers Over Concrete
Before installing pavers over concrete, the surface is cleaned with pressure washer to remove any dirt or debris. Once the concrete has dried, border pavers will be glued down using mortar or a construction adhesive.

Then, a one-inch thick layer of sand is added across the entire area where the pavers will be laid down. This helps drain water away from the pavers and off the concrete slab.

The next step involves adding pavers on top of the sand. Once all all the pavers are laid and cut, polymeric sand is swept into the joints to lock the interior pavers together without gluing them down.

Problems with Installing Pavers Over Concrete

Installing pavers over concrete doesn't work in every situation. If the base underneath the concrete is failing, you'll need to take out the concrete and start from scratch. Since something underneath the foundation needs to be addressed, this isn't a situation where you can chip out the problematic section and fix it.

For example, if you have a crack in your driveway that settles 1/8 of an inch each year, in eight years, you'll have a section of that's one-inch lower than the rest of your driveway. If you install pavers over the concrete without addressing the foundation issue, this will lead to major problems down the road.

Before installing pavers over concrete, be mindful of the height of the pavers. Certain pavers may be too tall for your space, leading to tripping hazards, blocked doors, drainage issues or uneven surfaces. In some cases, using shorter pavers (such as ones that are one-inch tall specifically made for overlays) may address this problem.
Why You Should Hire a Professional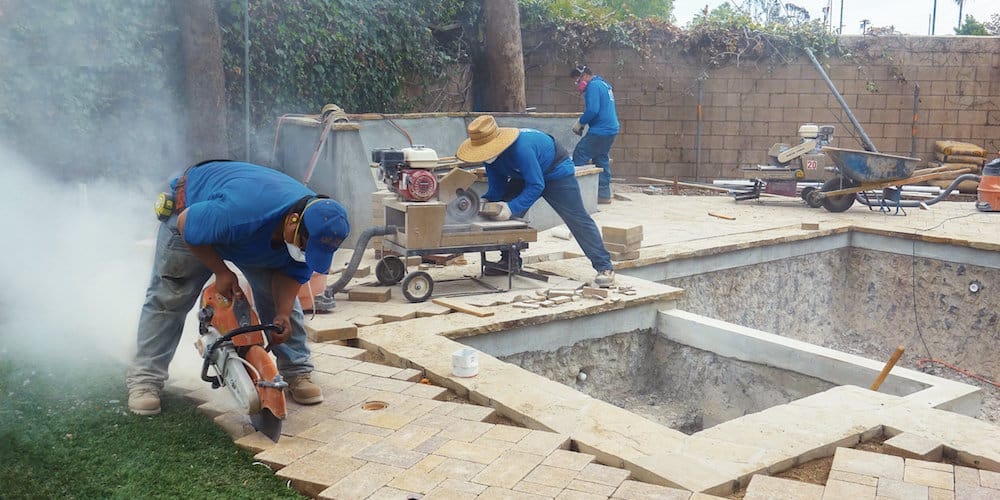 There are many tutorials and videos online for how to install pavers over concrete. While many people have tried to do this job on their own, it often leads to mistakes and poor results. If you're thinking of upgrading your concrete driveway, patio or pool deck, the best thing you can do is hire a professional to do the work for you.

There are many things to consider when installing paving stones such as creating a pattern, leveling the pavers, properly spacing out pavers, cutting pavers, installing on curves and more. For these reasons, it's best to let a professional paving contractor do the work for you.

At Pacific Pavingstone, we have decades of experience installing paving stone driveways, patios, pool decks and other outdoor spaces. We understand the challenges that homeowners face when installing pavers over concrete. By letting us handle the work, you'll benefit from a better final product that's completed quicker, freeing up your time in the process.

We've completed tens of thousands of paving projects, and we can help you assess whether an overlay is the right option for your paving project.
Whether you're looking to upgrade your driveway, patio or pool deck, Pacific Pavingstone is here to help you with your next paving project. Contact us today for a free consultation!