The right paver color is often the toughest hardscaping question for any homeowner. Here are tips to help you filter down choices
Adding paving stones to your home is an investment that creates a lasting impression. It often occupies a significant space in your landscape, so it easily influences the mood in a property.
As a homeowner, choosing your paver colors can be the toughest decision in the home improvement process. There is a wide arrange of colors and textures available, so deciding which one to use for your home can be taxing.
At Pacific Pavingstone, we guide you through all the different paving stone options. We tailor our recommendations around your specific needs and concerns. We also showcase a wide selection of samples to choose from at our office so you can see what the stone will look like in the correct lighting.
There's a lot that goes into choosing a paver color. And the answer isn't set in stone. To help you filter down your options, we've put together some tips.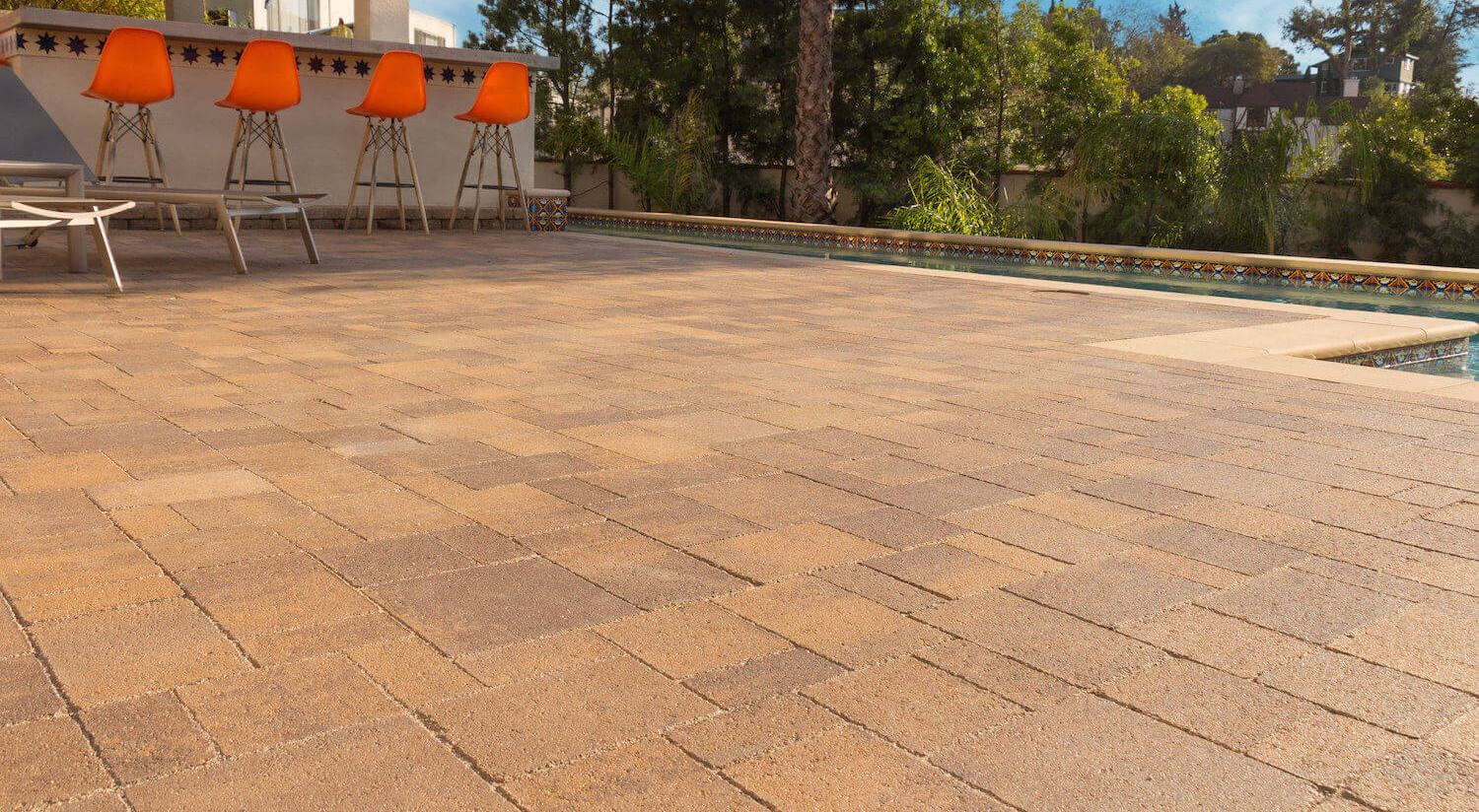 1. Think about your purpose.
What area are you paving? Your choice of paver color, texture, and type can vary depending on the location.
For areas that endure heavy foot traffic, such as pathways, pavers with a smooth texture are an ideal option. They feel comfortable walking on and make navigating your yard a pleasant experience.
Around a swimming pool, textured pavers are beneficial in reducing the risks of accidental slips or falls. However, that doesn't mean you need to stick to a single paver color or type for each area.
You can use textured pavers to line pathways and inject visual interest. You can also install smooth pavers on the sides of the pool that people are least likely to frequent.
2. Find a color match.
What colors make up your house exterior? Try to find a match to the look of your property. You'll want your outdoor pavers to harmonize with it as much as possible.
The roof is a good starting point when choosing a paver color. Orange paving stones, for example, can look great against a bright, red roof. Take a look at these landscaping projects in the Los Angeles area.
3. Consider visual effects and color combinations.
Using light-colored pavers can make a space look and feel wider. While vibrant colors help define limits.
Regardless of the landscape size, there are many potential color combinations available. If you want the space to have a relaxed feel, such as in a minimalist or Zen garden, you might want to lean toward warm or muted colors, such as grays.
A rustic landscape, meanwhile, may do better with livelier colors and unpolished paver edges.
We can help you visualize how your idea fits into the big picture.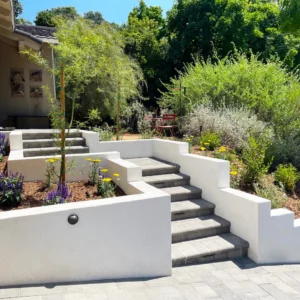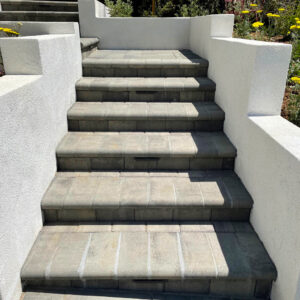 4. See how the sun hits your yards.
Constant exposure to harsh sunlight may affect paver colors in the long run. The sun hitting your pavers can also create different color variations from stone to stone. This isn't necessarily a bad thing as it can create a more natural look but it's something to consider. Darker tones may be more suitable for exposed areas and lighter ones for shady locations.
Natural daylight can also impact how your outdoor living space looks and feels at a specific time of day.
This is one important factor to consider when checking paver photos online. Its color can vary depending on the time the image was taken or whether the area is shady or exposed to sunlight.
If you're worried about your paving stones diminishing in color, sealing them can help keep their color stay intact for longer.
5. Go for an overall look or feel.
Do you want to try a specific color but are worried it might not work for your landscape? Think about the changes you can make. You don't have to redo your entire yard, but you may be able to modify certain elements to make your preferred paver color fit in.
You may be thinking; "what if our house and landscape are far from manicured, but we still want our pavers updated?" In this case, it can be hard to identify one paver color that will work because of the diverse landscape colors.
You and your designer can take a look at the overall feel or character of your property and use that as a guide in finding the perfect paver shade. Your designer and builder can help assess your yard to determine which areas can be improved. This is part of our design process at Pacific Pavingstone.
6. Don't be obsessed with matching everything.
You don't have to make everything match exactly to create a visually-pleasing yard. But you need to test which options work together.
Just as elements in your landscape don't have to be symmetrically balanced all the time, you can always experiment with your paver colors.
As always, plan everything before the execution. It's easier to change colors during the planning stage than when the pavers are already at the site, installed, and all set for use.
7. Make paver colors complement and not compete with existing elements.
Using your house or existing landscape elements as a reference doesn't mean choosing the same color for your pavers. You can go lighter or darker while making sure the pavers harmonize and don't compete with other yard elements.
Decide which feature will be the focal point. If you want your house to stand out, it's okay to choose less striking colors for your pavers. Being too consistent with colors in your landscape design can be tough and confusing for the eyes. There'll be no distinguishing lines between different spaces in your yard.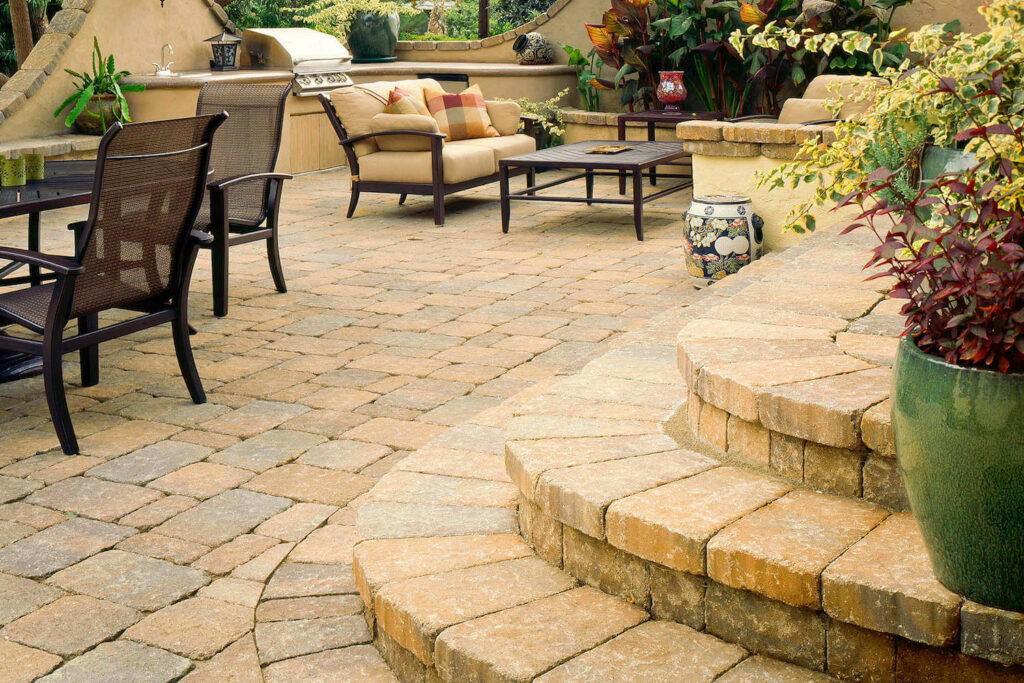 Check out paving stone color samples today for your dream landscape
Consider getting samples of the paver color you're interested in and see how they look throughout the day once installed.
If you're from Los Angeles, San Luis Obispo or the Santa Barbara area, we invite you to our showroom at Pacific Pavingstone.
We'll help you find the perfect paver shade on your visit. We're happy to tour you around and show you our paver collections and previous works. We can also create a 3D design of your yard show you how your paver choice will look in your space.
Contact us today. We're here to help you with your landscaping and hardscaping inquiries.