Whether you realize it or not, driveways make a big first impression. They're one of the first things someone sees as they approach your home, and the design, shape and size of your driveway are incredibly important.
Too often, homeowners underestimate the importance of a well-planned driveway, and they end up with a driveway that's undersized and frustrating to use.
Driveway sizes in Los Angeles vary based on a variety of factors, but there are some general guidelines to follow when determining how big a driveway needs to be.
Standard Driveway Lengths and Widths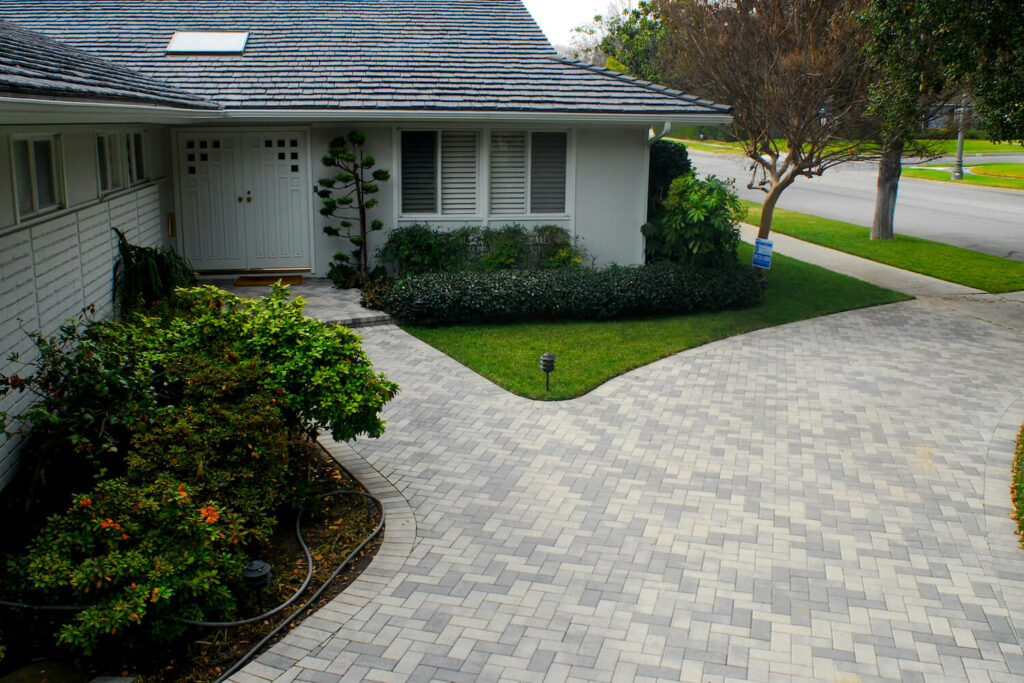 As a general rule, your driveway should be a minimum of 18 to 20 feet long. Allow 22 to 24 feet for full-sized pickups and oversized minivans. Plan your driveway with a minimum width of 10 to 12 feet per vehicle. If space allows, make the driveway even wider to allow more space to walk between vehicles. A two-car driveway where the cars are parked next to each other should be at least 18 to 20 feet wide.
These sizing guidelines are just the minimum, and there are many different factors to take into consideration when determining how big a driveway should be.
Sizing Considerations for Your Driveway
When determining the length and width of your driveway, the standard sizing guidelines are a good place to start. However, there are additional factors that should be taken into consideration including:
City Codes or Local Ordinances
Before starting construction on a driveway, always check city codes and local ordinances regarding driveway construction guidelines. Also, if you live in a neighborhood with a homeowner's association, check to see if they have any restrictions regarding styles or sizing for driveways before getting too far into your plans.
Number of Vehicles in Household
The number of vehicles in your household is one of the biggest factors that determines the size of your driveway. The more vehicles you have, the longer and wider your driveway will need to be. Additionally, if you frequently entertain guests at your home, you'll need extra spaces for those guests to park.
If space allows, you'll want to add extra room so people can easily walk between vehicles, open doors, ride bikes down the driveway, etc.
Other Uses for Your Driveway
Will your driveway also serve as a place for your kids to play basketball or ride their bike? Are you planning on parking a motorhome or large boat on your driveway? These are just some of the important questions to consider when determining the size of your driveway.
Hiring a Professional Paving Company in Los Angeles
There are many different factors to consider when determining the size of a paving stone driveway. Your best option is to hire a professional paving contractor who can help you determine the right size and layout of your driveway.
When hiring a professional, here are some qualifications to look for:
In-house designers and installers
Good online reputation
Plenty of local references
Longstanding track record for quality work and great service
Detailed written estimate with timeline for work
No shady incentives or high-pressure tactics
Licenses, credentials, and proof of insurance in their company's name
Understanding of which pavers are best to use on driveways
At Pacific Pavingstone, we've completed tens of thousands of paving stone driveways in Los Angeles and other areas of Southern California. We'd love to help you with your next project. We can help determine how big a driveway should be and answer any questions you have about the process.
Contact us today to learn more about how Pacific Pavingstone can help you transform your Southern California property.