As the main entryway leading to your home, a front paver walkway is literally the first impression that visitors will have upon pulling up to your house. A beautiful path to your home boosts curb appeal and makes guests feel welcome.
Before delving into specific materials and styles, make sure that you put some thought into the design and layout. The physical layout of the walkway should be the very first consideration, as this will determine many of the future ideas and components. It's important to look at the big picture and work with a professional who can help you visualize and determine the ideal design.
Once you start the process, there are many directions you can go. Here are 14 of our favorite paver walkway suggestions that will add a stunning aesthetic to any home.
1. Go Wide with It
The more frequently your front walkway is used, the wider the design should be. If it's connecting to a driveway, which many designs are in Southern California, you most likely want it wide enough that two people could walk side by side comfortably.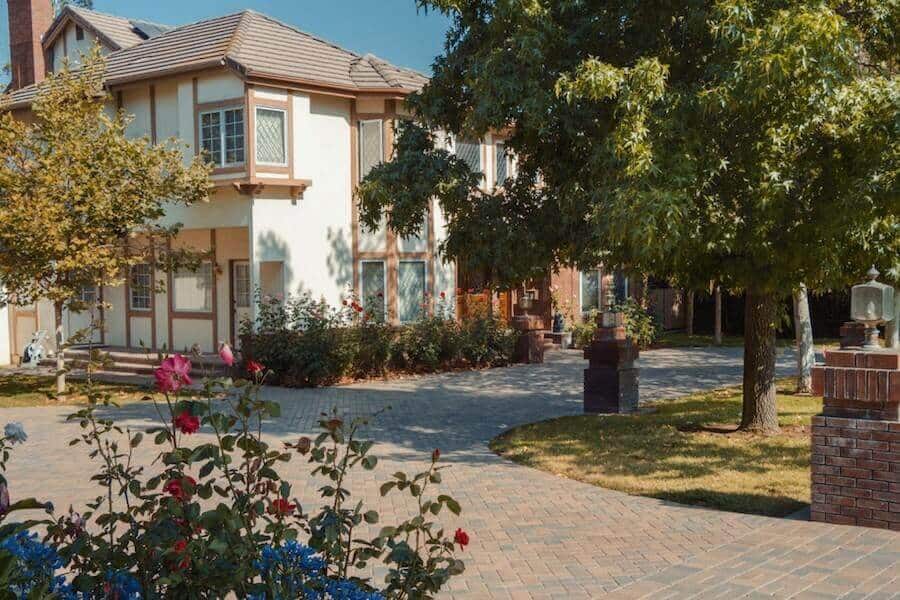 The minimum width for a front walkway should be 42", but a wider walkway up to 60" could really enhance the appearance of a home. Your landscape designer can help you figure out what width is best for your front yard.
2. A Curve in the Road
There is no rulebook that says your front walkway has to be a straight line. A curve in the walkway adds some mystery and allure. It also adds a big boost to curb appeal.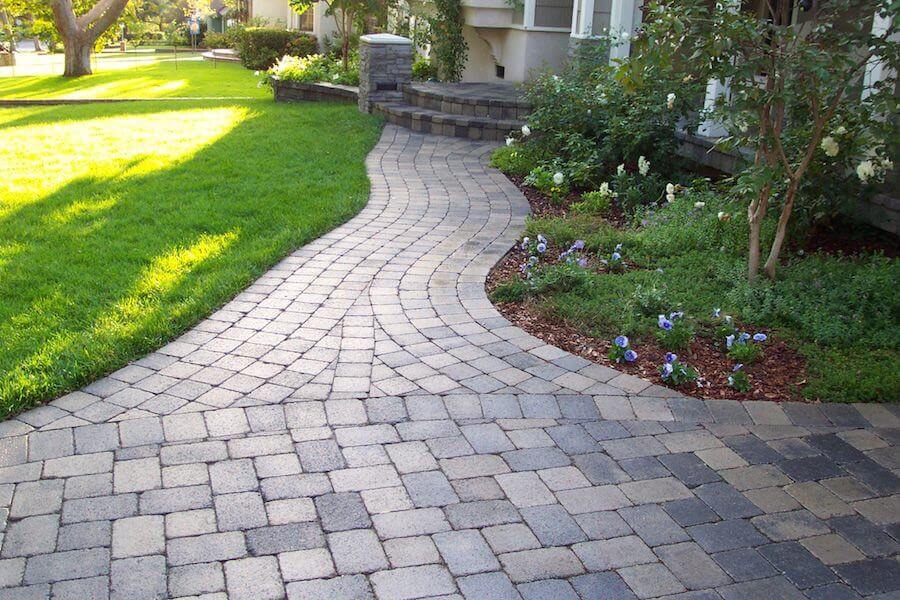 3. The Oh So Fancy
If you have a contemporary home, chances are you want an elegant promenade leading up to your home. A front paver walkway does set the tone for what guests can expect, so think about a design that works best with the existing context and your style and taste. A more modern walkway typically has clean lines and a smooth look.
4. A Tad More Traditional
If it's the traditional look you prefer, you might consider using something like an antique cobble paving stone or maybe even brick. Every paver manufacturer out there makes a product to complement any theme or look you are trying to achieve.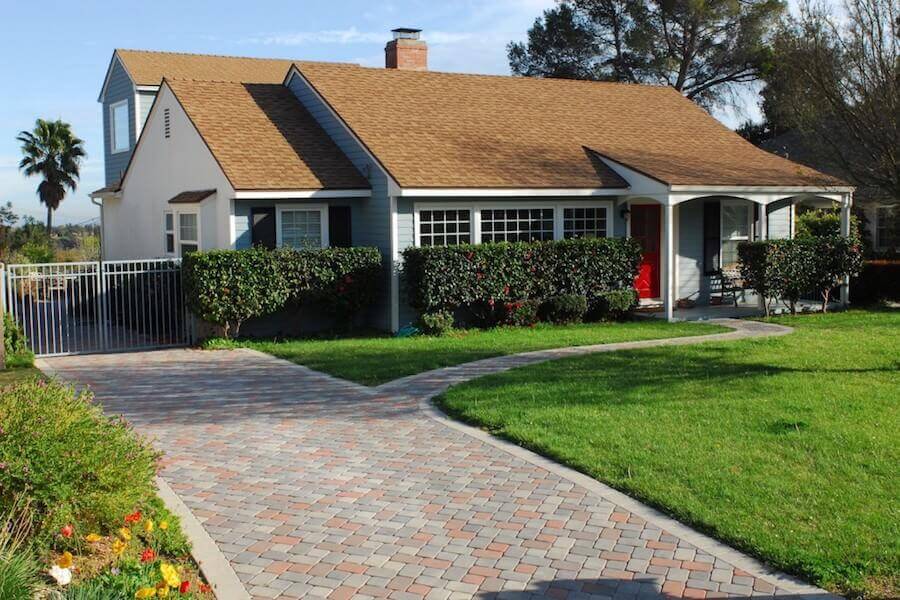 5. Choose Unique Paver Walkway Patterns
You can get really creative with your front walkway by adding a design or pattern. Whether it's alternating colors or going so far as incorporating your family initials or house number, adding a unique paver walkway pattern makes your project truly one of a kind.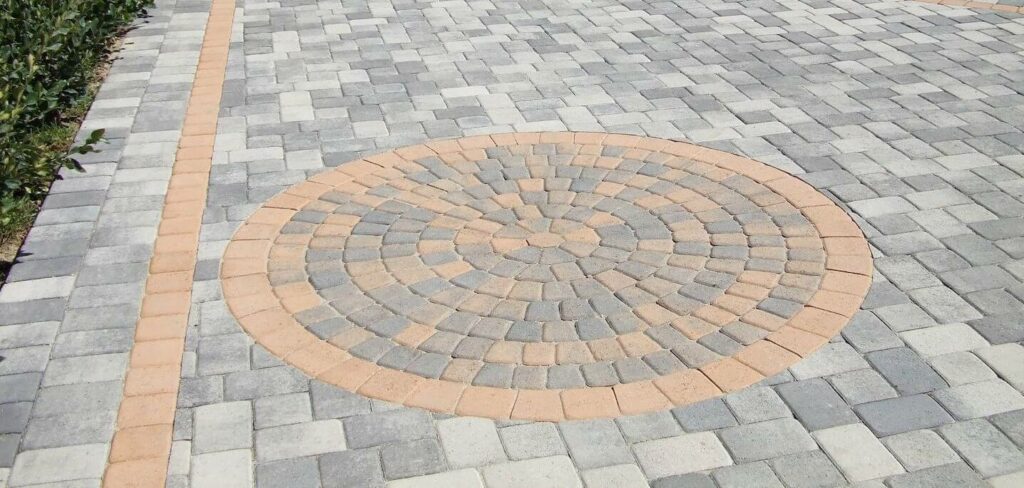 6. Between the Lines
One easy front paver walkway idea that still packs a lot of appeal is incorporating flanking bands that line the walkway on either side. These bands should be done in a solid color shade that accents the colors of your home. A popular choice is pavers that are dark gray or black.
Then in between these lines, you can have some fun with varying colors or go with all one color and play with multiple paver sizes incorporated in your paver walkway pattern. Either way, those flanking bands give the path some nice definition and contrast.
7. Create a Circle Within Your Walkway
One way to make your front paver walkway really stand out is to add a circle of pavers as it leads up to the porch. Circle kits are made of pavers that are tapered at one end in order to create a tight fit while rotating around each subsequent layer.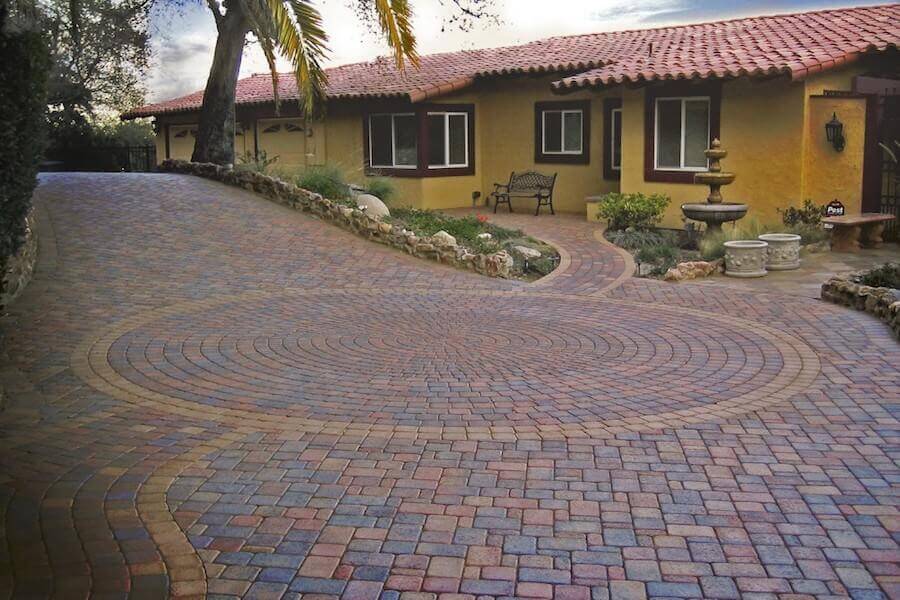 Whether this is done midway or closer to the porch, it adds some impressive grandeur, even in the simplest of projects.
8. Get Geometric
If a more modern or abstract look is your taste, consider a geometric design of interlocking rectangles or shapes. Instead of going straight or curved, a design like this brings bold angles together for a truly unique look.
9. A Built-In Stop
If you have a long front walkway or a front yard where you spend a lot of time relaxing, you may want to consider building in a stop along the way with a sitting area.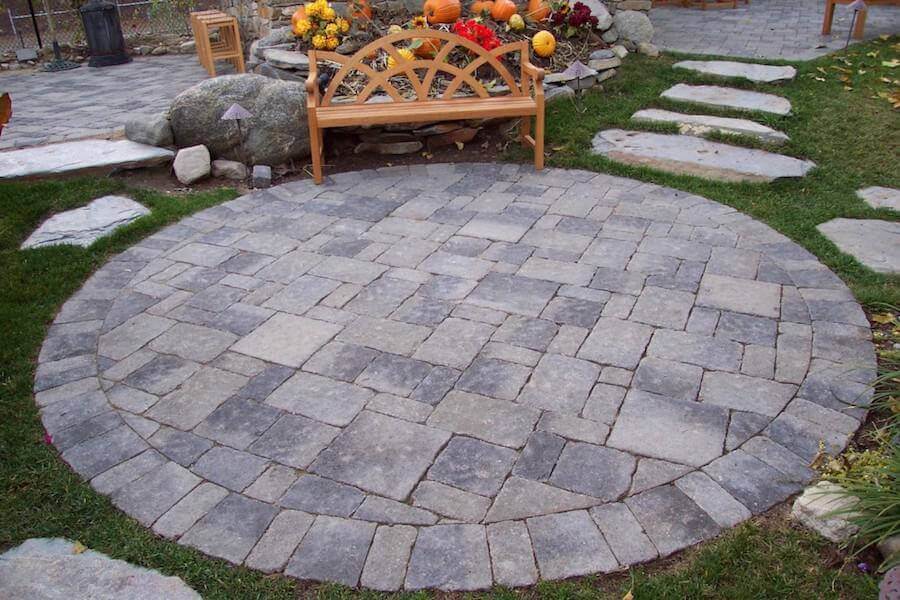 Add a bench, some chairs, or any outdoor furniture so that your guests can stop and enjoy a particular eye-catching statue, water feature, or landscape design along your front path.
10. Crossing Paths
Whoever said you needed to have just one walkway leading to your home? For a truly unique look, consider two pathways that perhaps veer off or come together as a circle around a beautiful-looking tree or statue.
11. Look Overhead
Another fun way to add interest to your front paver walkway is to add a vertical element such as a trellis or a pergola that guests can pass under. Adding an archway adds visual interest but also provides some shade which pairs nicely with the built-in stop, as previously suggested.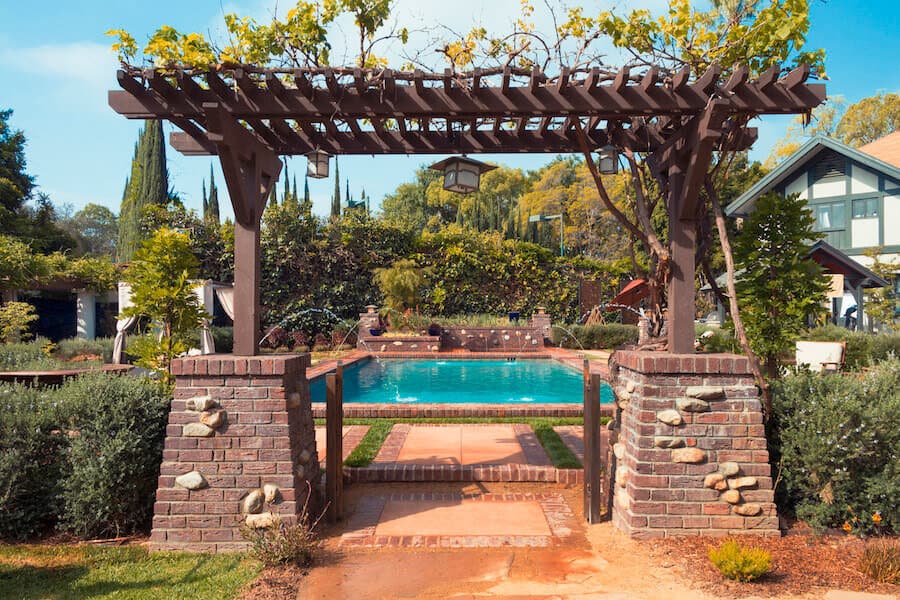 12. Light Up your Path with Landscape Lighting
Nothing adds ambiance and curb appeal quite like pathway lighting. It's incredibly welcoming to guests when they see the walkway lit up. A well-lit walkway is also extremely functional, making it less likely that you or your guests will trip and fall when entering the home at night. This I especially important if you have elements such as steps or an unexpected curve in your paver walkway.
A well-lit front yard is not only easy to take your curb appeal to the next level, but it also provides a front yard that deters intruders. Talk to your landscape designer to see what options of lighting fixtures match your style and needs.
13. A Pop of Color and Texture
When it comes to paver walkway landscaping, color and texture is so important. Small shrubs, perennials, and even annuals can be mixed to provide bright and colorful plantings that will accent your walkway and bring a living element to your hardscape.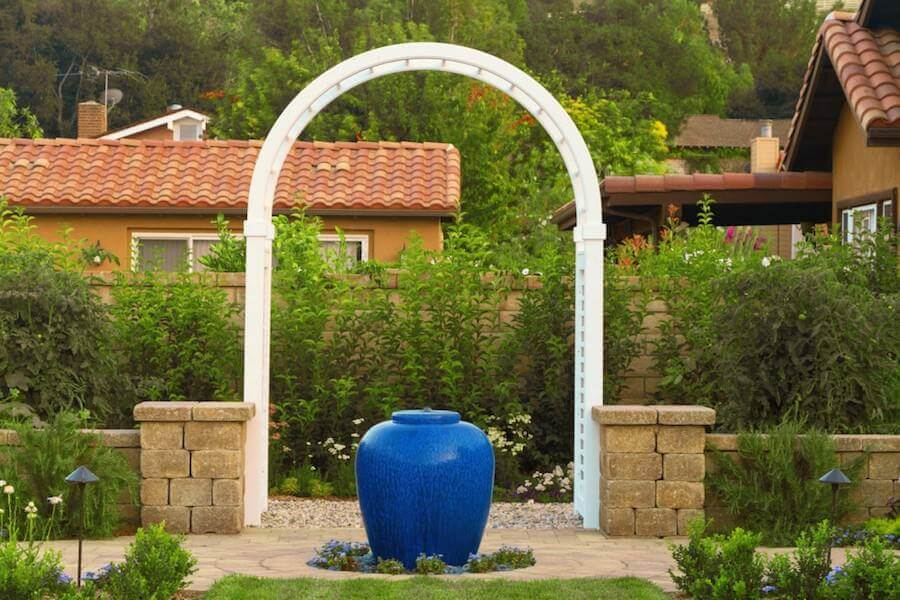 Just be sure to keep the beds adjacent to your walkways neatly groomed so that there is no overgrowth. A landscape designer can help choose plants that work best for your front yard's sun exposure and make sure your paver walkway landscaping doesn't encroach on your paths.
14. Add Impact with Container Gardens
Some projects incorporate columns in the entryway, topped with container gardens. These pots are filled with bright annual blooms that can be seasonally updated for a fresh look. This is an easy addition to your paver walkway that has a big impact.
Using a Pro to Install Your Front Paver Walkway
Before falling in love with a specific idea, connect with a professional who will know what works best for your home specifically in terms of design and layout. Bringing your ideas to the initial design consultation is incredibly helpful in working through the process. At Pacific Pavingstone, our in-house designers and installation teams have built thousands of front walkway projects. We not only have a wealth of ideas, but also the know-how to create the front paver walkway that is best for you. Working with your ideas, we can add serious curb appeal to your Southern California home.
Contact us for more information to get a free front paver walkway estimate or you may also call us at (818) 392 – 5085.